As a life care company, we are focused on those we serve. From those who enter our doors seeking world-class medical care to those who want to improve their health and life. We are invested in the vitality of the communities we serve and the health and quality of life of the individuals in those communities. We have servant's hearts and put those we serve first. We are here to change health care for the better. We are here for a purpose, to treat the whole person, not just an illness or a condition, but to find out what makes you unique, what makes you get up in the morning. And how we can help you live a better life.
Dreams and aspirations live in us all. We all want something better out of life. By changing health care to life care, we can all have it. We can take those dreams and aspirations and develop a roadmap, a life plan, that will help you set milestones and goals. The best part, we will be right there with you, so you don't have to do it alone.
Mark Laney, MD, CEO
Dr. Laney joined Mosaic Life Care in 2009. Prior to this, he served for 20 years at Cook Children's Health Care System, eight of those years as the president of the Cook Children's Physician Network. Dr. Laney earned a Bachelor of Arts from the University of North Texas in Denton, Texas, received a Doctor of Medicine from the University of Texas Medical Branch in Galveston and completed a Pediatric Neurology Fellowship at Mayo Clinic in Rochester, Minn. In 2000, he received a Master of Science in medical management at the University of Texas at Dallas and the University of Texas Southwestern in Dallas. Dr. Laney is the former president of the Mayo Clinic Alumni Association and is one of the 30 Best Physician Leaders of Hospitals and Health Systems according to Becker's Hospital Review.
Michael Pulido, Chief Operating Officer
Michael Pulido was named Chief Operating Officer in 2017. In this role, Michael oversees the medical center, our Long-Term Acute Care Hospital, strategic health partnerships and general support operations, in addition to his prior duties as Chief Administrative Officer. Michael has more than 20 years' experience in an integrated health-care system in human resources and administration. Michael is a certified Senior Professional in Human Resources (SPHR) and a Fellow in the Healthcare Advisory Board (FABC).
Michael attended the University of Houston on scholarship earning a Bachelor of Political Science as a student athlete on the baseball team. He received his Master of Healthcare Administration from the University of Minnesota. Michael and his wife, Sheri, have two children and reside in St. Joseph.
Dwain Stilson, Chief Financial Officer
Dwain Stilson was named chief financial officer of Mosaic Life Care in 2016. Mr. Stilson joined the Medical Center in June 2014 as controller. Prior to that time, he served for seven years with Health First, Inc. in Rockledge, Florida as corporate controller from 2012-2014 and in other finance leadership roles.
Before joining the healthcare industry, Mr. Stilson worked in the public accounting sector for five years including a two year stint with a big four accounting firm. Mr. Stilson is a Certified Public Accountant and member of the American Institute of Certified Public Accountants and the Healthcare Financial Management Association. He earned a Bachelor of Science in Business Administration from Webber International University in 2003 and a Master of Business Administration Accounting from University of Central Florida in 2005.
Edward Kammerer, MD, Chief Quality Officer
Dr. Kammerer began his journey at Mosaic Life Care in 1998 in internal medicine and was named Chief Quality Officer in 2015. Dr. Kammerer earned a Bachelor of Science in Chemistry from the University of Wisconsin – Milwaukee, and he attended medical school at Creighton School of Medicine in Omaha, NE. He completed his residency at the Mayo Clinic in Rochester, MN and is Board Certified in Internal Medicine.
Dr. Kammerer has been a member of the Clinic Culture Committee since 2007, and was the Chair of the Department of Medicine from 2003-2006.
Davin Turner, DO, MS, Chief Medical Officer
In January 2020, Dr. Turner was named President of Mosaic Life Care at St. Joseph, Medical Center. Dr. Turner will be responsible for medical center operations in addition to his role as the Chief Medical Officer. For more than 20 years, Dr. Turner was a practicing family medicine physician. He began his administrative journey, part-time, as the Clinic Physician Administrator in 2012. He transitioned to this role on a full-time basis in 2014. Mosaic has benefited greatly from his outstanding leadership.
Dr. Turner attended the Oklahoma State University College of Osteopathic Medicine and trained at the University of Massachusetts – Fitchburg Family Practice in Fitchburg, Massachusetts. He also trained at Brighton Medical Center in Portland, Maine. Dr. Turner completed his Master's Degree through the University of Texas at Dallas. Dr. Turner is Board Certified in Family Practice.
Crystal Macaluso, DO, Chief Medical Information Officer
In her role as Chief Medical Information Officer, Crystal Macaluso, DO, provides data strategy and governance guidance, serves as executive sponsor of clinical systems and related data governance controls, processes and reporting, and leads and influences system‐wide data governance where clinical and non‐clinical systems overlap. Dr. Macaluso began her career with Mosaic Life Care in 2016 and continues to work as an Emergency Department (ED) physician. She previously served as the Assistant Medical Director for the ED for several years.
Dr. Macaluso earned her bachelor's in biology from Southwest Baptist University in Bolivar, Mo. She attended medical school at Kansas City University in Kansas City, Mo., and earned her doctorate in 2013. She completed her residency in emergency medicine in 2016 at University of Kansas Medical Center in Kansas City, Kan., and then joined Mosaic in St. Joseph, Mo.
Dr. Macaluso is married to husband, Nick, and together they have five children. As a family, they enjoy sports, travel, and are active members in their church and community.
Pat Dillon, Chief Government and Community Relations Officer
Pat Dillon was named Chief Government and Community Relations Officer in 2019. Prior to that, Pat was Vice President of Advocacy/Government Relations for Mosaic Life Care.
Pat has served on many non-profit boards in St. Joseph including Sertoma, United Way, Success by 6, Chamber of Commerce, the Missouri Western State University Foundation, Allied Arts, Downtown Partnership, Albrecht-Kemper Museum of Art and the YMCA. Throughout his career, Pat has received numerous awards and recognitions including the Ingram's 50 People in Missouri You Should Know, Sertoman of the Year, Sam Walton Small Business Leader Award and many others.
Pat and his wife Nancy reside in St. Joseph and have two adult children, Patrick and Erin.
Dana Anderson, LTACH Administrator
Dana joined Mosaic Life Care in 2001. At Mosaic Life Care, Dana's career began as a patient care associate. She then transitioned into a nursing role in the critical care units. In 2010, Dana became the Director of Nursing of the Long-Term Acute Care Hospital, a hospital-within-a-hospital inside of the medical center.
In 2014, Dana became the administrator of the LTACH and is responsible for providing administrative leadership to nearly 75 caregivers that provide care to chronically and acutely ill patients who require an extended hospital stay. Dana earned a Bachelor of Science degree in Nursing from Missouri Western State University in St. Joseph, MO.
Tony Claycomb, President, Mosaic Clinics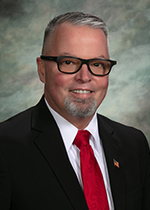 Tony Claycomb accepted the role as President for Mosaic Clinics in March 2020.
Tony recently served as Interim Associate Administrator for Operations of Mosaic Clinics. He has been with the organization more than 29 years. Tony has served as Vice President of Operations, Director of Surgery/Anesthesia/SPD/Surgery Center/GI Lab, Cardiac Cath Lab RN, Lead RN, and Certified Surgical Technologist. Tony also spent six years working in a private practice clinic as both a tech and a RN. Prior to his time with Mosaic, Tony proudly served on active duty for four years as a U.S. Navy Hospital Corpsman.
Tony received his Bachelor of Science in Nursing from Missouri Western State University and his Master of Business Administration from Benedictine College.
Katie Dias, DO, Administrator, Mosaic Medical Center – Albany
Katie Dias, DO, is the administrator of Mosaic Medical Center – Albany, a critical access hospital system located in Albany, Mo. In her role, Dr. Dias sees patients half days, three days a week. Her other responsibilities include the growth and management of Mosaic Medical Center – Albany and its affiliated medical group and outpatient services.
Dr. Dias is a family medicine physician, primarily serving Mosaic Family Care – Grant City and Mosaic Family Care – Stanberry clinics since 2011. She also rotates as a hospitalist at Mosaic Medical Center – Albany. Additionally, Dr. Dias has served as medical director for the Tri-County Health Department, the Worth County Emergency Medical Services and the Pine View Manor Board. Dr. Dias has been the medical director for several Mosaic Medical Center – Albany areas, including rural health clinics, the Health Information and Utilization Committee and the Outpatient Department. Dr. Dias was the Mosaic Medical Center – Albany Medical Staff president from 2016 – 2020. She then moved to the vice president role in 2021.
Dr. Dias was raised in the Albany area. She lives in Stanberry with her husband and two children.
Nate Blackford, President, Mosaic Medical Center - Maryville
Nate Blackford is president of Mosaic Medical Center-Maryville. Nate was most recently the vice president and chief operating officer of MPact Health in Parkville, Mo., where he played a key leadership role in the creation and development of a multi-state clinically integrated network of physicians, clinics and hospitals. Before that, Nate was the vice president and chief operating officer of Northwest Medical Center in Albany, Mo., where he directed a broad range of clinical departments and administrative services.
Along with working at Northwest Missouri State University as the former director of Strategic Research and Planning, Nate held various leadership positions with Cerner Corporation. Nate received his Bachelor of Science in Business Management and his Master of Business Administration from Northwest Missouri State University.
He and his wife Andrea have two children, a son Connor and daughter Chloe. Nate enjoys coaching his kids' sports team and playing golf.
Jaren Pippitt, Chief Strategy and Business Development Officer
Jaren's career in healthcare began more than 20 years ago and she has held positions in physician network administration, strategic business development and service line leadership. She earned her Bachelor's degree at Missouri State and a Master's in Health Administration from the University of Missouri. She is a Fellow of The Advisory Board Company, a member of the American College of Healthcare Executives, and an Alchemist of the Kaiser Institute Alembic Program. She also has served on numerous healthcare and community boards.
She previously served Mosaic Life Care as Associate Administrator of the Human Motion Institute, which enabled her to support caregivers who help patients return or progress toward their desired level of functioning and to "Live Life Well." She also served the organization as Administrator of the Home Centric division, which is committed to delivering Life Care Anywhere Anytime until 2017.
In 2017, Jaren was named Administrator of Strategic Partnerships. In this position, Jaren works closely with our largest current and future strategic partners while forming other potential partnerships in the markets Mosaic Life Care serves. Jaren works with Operations teams to ensure strategic initiatives are implemented smoothly. In 2019, Jaren was named Chief Strategy and Business Development Officer. Jaren is responsible for the facilitation and coordination of our Strategy efforts including our Strategic and Long-Range planning processes along with overseeing regional and business growth opportunities.
Jaren "Lives Life with Purpose."